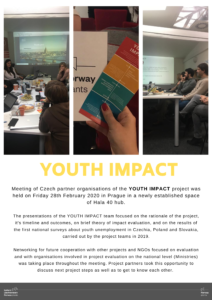 Meeting of Czech partner organisations of the YOUTH IMPACT project was held on Friday 28th February 2020 in Prague in a newly established space of Hala 40 hub.
The presentations of the YOUTH IMPACT team focused on the rationale of the project, it's timeline and outcomes, on brief theory of impact evaluation, and on the results of the first national surveys about youth unemployment in Czechia, Poland and Slovakia, carried out by the project teams in 2019.
Networking for future cooperation with other projects and NGOs focused on evaluation and with organisations involved in project evaluation on the national level (Ministries) was taking place throughout the meeting. Project partners took this opportunity to discuss next project steps as well as to get to know each other.